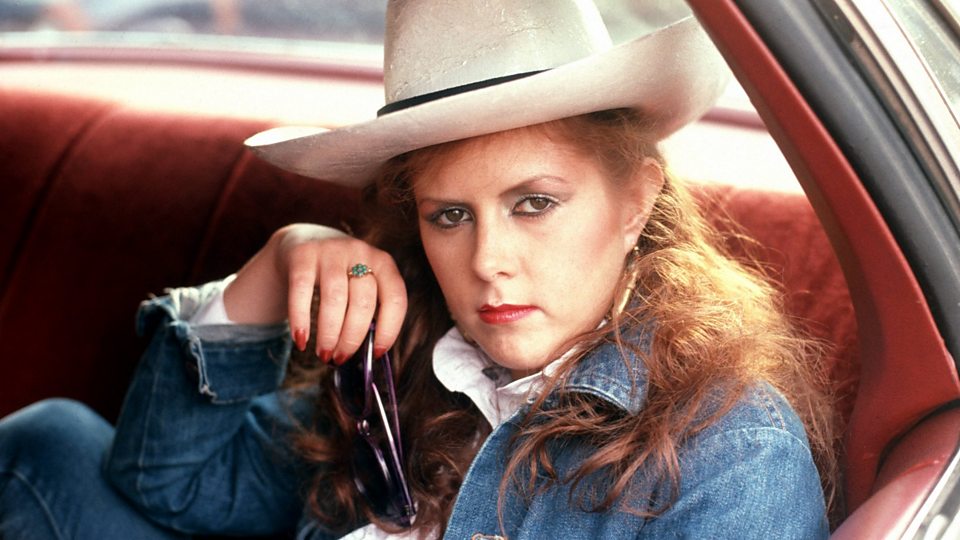 'We should just take our chances while we've got nothing to lose'
Jesus Christ this world is fucked. 2019 was a basket case and 2020 will be the worst year til 2021, no contest. So fuck it, here are
9 songs by Kirsty MacColl
.
The first time I came across English singer-songwriter Kirsty MacColl, who was almost certainly killed by a multi-millionaire supermarket chain owner in 2000, was on "
Fairytale of New York
". On that iconic Pogues song, she plays the down-and-out female character, singing a duet with the ever-drunk Shane MacGowan.
On that track, she's full of charisma and fire. But if you stop there, with MacColl's work on someone else's song, you're missing out.
Because Kirsty MacColl, daughter of communist folk singer Ewan MacColl of "Dirty Old Town" and "First Time Ever I Saw Your Face" fame, is something else. Her songs in her too-short career are filled with wit, anger and humanity. (You can watch a
doco about her life and songs)
.
Genuinely original, her songs span pop, rock, country and Latin music. She can be tender, but most of all she knows when to shove the knife in and twist. A Kirsty MacColl song has zero tolerance for cunts.
Her death aged 41 in 2000 was not just tragic, it was fucking symbolic. It sums up this shithole of a world.
WHen she died, MacColl was on holiday in Mexico, having just visited Cuba again.
(A supporter of besieged Cuba and its culture, MacColl raised funds to break the fucked-up US blockade on the island. When she was killed, a charity was launched inspired by her work --
Music Funds for Cuba
-- to support Cuban artists.)
MacColl was diving in a designated diving area with her two sons when a speedboat owned by
Guillermo González Nova
, multimillionaire president of the
Comercial Mexicana
supermarket chain, illegally sped through. It was heading straight for her 15-year-old son Jamie before MacColl managed to push him out of its path, only to hit by the boat herself.
She died instantly.
Despite Gonzalez Nova being on his boat, one of his employees claimed to have been driving (he later said he'd been paid to take the blame). A Mexican court gave him a fine for killing MacColl of US$90.
That's the world. The rich kill you and get the hired help to pay a minor fee.
Here is a a
playlist of 9 songs
, mostly hers with two covers thrown in. Any seeming connection to the current events in Britain or elsewhere is purely coincidental.
***
There's a guy works down the chip shop swears he's Elvis
But he's a liar and I'm not sure about you
Lucky the world has changed and, since MacColl's death in 2000, no lying man of any note has risen to any sort of prominence. There is also a cool alternate
country version
of this track from her debut album.
They smile and say cheese
They're so eager to please
But they'll never remember your name
The names and the places all change
I love this song, with its country stylings. It is savage against men being cunts, but still shot through with hope, tenderness and a large dash of self-deprecation.
The mercury is rising and it's not all that surprising
In the land of milk and honey where you make big money
And it always keeps the rain off and it always keeps you dry
But back home the people hate you and you never did know why
I don't know how, but Kirsty MacColl appears to have written a song about Australian Prime Minister Scott Morrison literally 30 years ago!
I thought of you when they closed down the school
And the hospital too
Did they think that you were better?
They were wrong
You had so many friends
They all left you in the end
'cause they couldn't stand the patter
I don't know how, but Kirsty MacColl appears to have written a song about recently re-elected British Prime Minister Boris Johnson literally 30 years ago!
It is not in my nature to ever pick the winning team
Sometimes I think I'm happy then I remember it's a dream
Now it isn't in my nature to ever pick a winner
I always pick a bastard who would have me for his dinner
A true story about a bastard of a man/ruling class.
Then I met an Englishman
Oh, he said
Won't you walk up and down my spine
It makes me feel strangely alive
I said: In these shoes?
I doubt you'd survive
I said: Honey, let's do it
I must admit I can think of an Englishman I'd like to see killed in such a fashion. Fuck it, I can think of a few million of the Tory voting pricks.
I don't want to change the world
I'm not looking for a new England
That's probably just as well Kirsty, after events in that fucking shithole this year.
You just haven't earned it yet, baby
You must suffer and cry for a longer time
Welcome to 2020... We are yet to earn deep-going radical change to create a humane, sustainable world. Yet.
Why should it matter to us if they don't approve
We should just take our chances while we've got nothing to lose
Baby
There's no need for living in the past
Now I found good loving gonna make it last
I tell the others don't bother me
Cause when they look at you they don't see what I see
No I don't listen to their wasted lines
Got my eyes wide open and I see the signs
But they don't know about us
And they've never heard of love
Look I'll admit it. This song is how I feel about Jeremy Corbyn. But I get it, he lost and he, as an individual, is stepping down as leader of Those Who Fucking Want There To Be a Fucking Future (English Division).
But the ideas -- the policies and the Manifesto developed since he unexpectedly and Quixotically became British Labour Party leader remain... so I guess what I am saying is this is how I feel about Corbynism and the mass movement around these ideas.
So yeah. We should just take our chances while we've got nothing to lose.