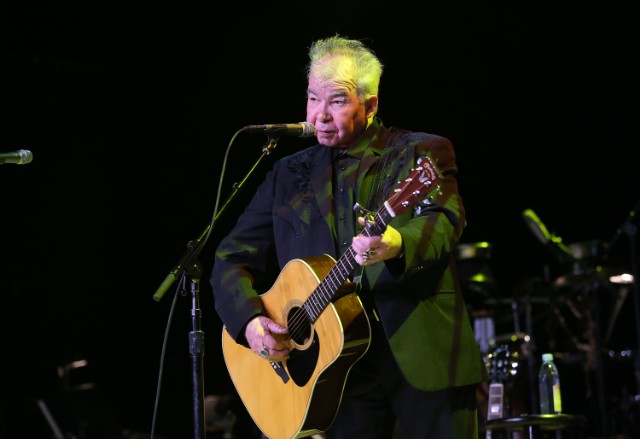 John Prine, at a gig that wasn't the one I was at, but at which I also didn't cry.
I saw the legendary American country/folk singer John Prine on the weekend at the State Theatre in Sydney and I didn't cry. Why would I? Who said I did?
What sort of freak would cry at the likes of Prine, who was discovered and championed by Kris Kristofferson (who said Prine's songs were so good "we'll gave to break his thumbs") and who, when singing '
Sam Stone
', one of the first songs he ever wrote while working as a mail man about five decades ago about a Vietnam vet suffering PTSD who dies from a heroin overdose, offers up lines like "good songs don't last long on broken radios"?
I didn't cry.
I didn't cry when his opening act, young Kentucky country singer Tyler Childers, ended his set by singing "
Lady May
", a beautiful love song to his wife. I don't know who has been telling you what, but my eyes were dry!
I
was
bemused, I'll admit, when Childers first appeared coz he was wearing a nice suit and was clean shaven with a short, neat haircut whereas the clips I've
seen of him
he had his long, wild red hair pulled back with an unruly beard and his dress sense was more... well about up to my standards of slovenly care.
How I had been lead to believe Tyler Childers would look.
But then he started singing and his hoarse, but emotively powerful voice rang out through the State Theatre and that was him alright, singing his stories of a heartbroken preacher succumbing to alcoholism or of a quiet night where he "only had a couple of drinks" and "a few good hits from an antler pipe" and he "must admit I had a couple of white lines' and then the next thing he knows he awakes to the noon light with a pounding head and a black eye and it "feels like fierce abandon", you just like everyone else's Tuesday night too, this guy is singing our lives!
I may have have been enthralled in his stories, sure, but I never cried when a simple story of love like "Lady May", sung as the best country songs are, from the bottom, from a man who has "held my weight in shame".
Now I ain't the toughest hickory that your ax has ever felled, but I'm a hickory just as well. I'm a hickory all the same...
I think it is his use of rural imagery that enables me to relate, being a renowned outback type myself.
Prine!
Now I will admit I felt like crying, sure, at only being able to see a truncated opening set by Childers, without his full band. And at the fact that, early on especially, he had to play while many in the audience were still taking their seats. Sure. I
felt
like crying. But the point is I didn't, whatever tales may have been spread by my enemies.
Then John Prine came on and he at least had the decency to look exactly as expected -- small, hunched over, old and absolutely nothing like any kind of popular music star, let alone icon. Until he sings his tale of wit, love and loneliness, but, and I don't know who has been telling you what, but even when he went for the heart I didn't cry.
I didn't cry when John Prine sung "
Hello In There
", from his 1971 self-tiled debut album, about the loneliness of growing old. I didn't cry when the narrator, recalling his growing list of dead friends, notes, "We lost Davy in the Korean war. And I still don't know what for, don't matter anymore." Anyone who says I did is a straight up liar.
I didn't cry when John Prine sung "
Summer's End
", a melancholic song tinged with a gentle sense of grief from his latest album, which was released with a video tying it to the US's devastating opioid overdose crisis, now the leading cause of death for Americans under 50. Of course I didn't.
I didn't cry when he played "
Angel from Montgomery
" from his first album that was later a hit for Bonnie Raitt, or at the endearing sweetness of "
I Have Met My Love Today
" from his latest. All these accusations are getting ridiculous.
I may have laughed.
I may have laughed when he sung a one-person duet of "
In Spite of Ourselves
", his tale of lovers who bug each other, first recorded with Iris DeMent. (He "drinks his beer like its oxygen", she "thinks crossing her legs is funny").
And when he sung "
Jesus The Missing Years
", where he speculates about what the Son of God might have gotten up to in those years the Bible doesn't mention (such as recording with The Stones). And at "
When I get To Heaven
", from his latest album details the vices he is keen to restart.
I definitely smiled an illegal smile during "
Illegal Smile
", also off his debut and which offers an energetic defence of consuming cannabis. Mine came courtesy of the baking efforts of a friend staying with me, but judging from the enthusiasm of those who joined in the chorus, I was not alone in wearing a grin still banned in this godforsaken country.
Hell, I probably
should
have cried when he played "
Paradise
", one of popular music's first ecological songs that describes the environmental destruction wrought on the town he grew up in by a coal company, seeing as that describes the goings on in this godforsaken country all too well.
But at no point, and I can't stress this enough, did I shed any tears. Nor were my eyes even moist. It is absurd that I have to answer this campaign of fake news, but these are the times we live in.
I'll admit one thing: I still feel like crying when I think of how expensive the tickets were. Mine was in the cheapest stalls and was still just shy of three figures. The profiteering gentrification of live music seems to gall more with the case of someone like John Prine who has dedicated his career to singing stories of ordinary people only for the type of characters who fill his songs to be priced out of seeing him play them.
But I didn't cry, and I hope that is the end of it.
'You know what blood looks like in a black and white video? Shadows...' John Prine also played this literary tale that jumps from a pre-European colonisation creation tale to a disintegrating marriage to two random, unexplained murders.