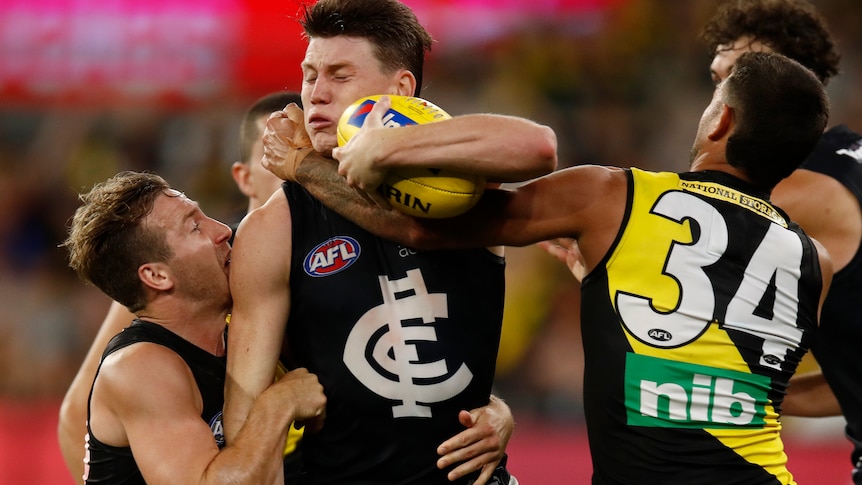 The AFL is back, if you exclude the seven AFLW rounds already played this year, and no doubt almost all of you were glued to the TV as there's really nothing else of interest going on in the world right now.
Or maybe you were too busy celebrating another week of no protesters being shot dead on our streets to. Or too distracted thinking about that top cop's idea, the one so dumb and offensive in equal measures it was like a Donald Trump tweet if the ex-president and future convict had suffered an especially debilitating aneurysm.
Or maybe you just couldn't bring yourself to watch a game between Richmond and Carlton. After all, the game offered the unpleasant choice of a win for a deeply unlikable, arrogant and entitled club with little respect for the rules, or a draw.
Well don't worry, I've got your back. The best part of watch AFL is undoubtedly the quality of the Channel 7 commentary, and even without Bruce McAvaney in the box there's still plenty to like about this team.
So I collected a few of the commentating highlights as they were uttered last night so you can get a full flavour of the match. As it goes on, you might feel the comments seem to get a little homoerotic, if not outright pornographic. I can assure you this just you. Australian Rules football is a pure, innocent game and you should be ashamed of yourself!
THE FOOTY'S BACK! (Spoiler: a deeply unlikable, arrogant and entitled club with a questionable commitment to the rules won the match.)
***
THE CROWD ARE STANDING, THEY'RE ALLOWED TO STAND…
And the 2021 AFL season is underway!
Wrapped him up like a blanket
Perfect conditions at the MCG, as BT said
Wants to play on
Massages it to half forward
Can he find someone inside 50?
For the first goal in the match and the season…. BANG!
With the clearing kick
Smooth as you like
Worked it nicely
One on one, he rarely loses them
Aren't the fans loving it being back!
Nice movement
Hopeful start here for the Blues
Defends to the boundary
This first 10 minutes are crucial
Dropped what he should have taken
Now the calvary arrive
Only one home for the Blues
He'll run all night!
Now they steady, the Tiges
Ball's pinging around
It just emphasises the importance of decision making
Just a little bit too cute
You CANNOT turn the ball over there in that part of the groun. You just cannot afford to do it!
Has got to be clean
Great to be back here!
Level pegging… in goals
That was well done by the young gun
Kept it alive
Sits a high one up
Got a nice look about it already, this game of footy
They need to hit the scoreboard
Two ready to do combat in the Coles centre circle!
Excellent front and centring from the Carlton smalls
Belted in the tackle
Coughed it up, you can't do that against the Tigers!
You couldn't ask for more! Scores level!
Knew he had to get rid of it
Pouring the pressure on late in this first term
Goes for home, touched on the line
Pounds a long one
Strikes it perfectly!
So much to like about this kid
Mown down!
High ball
Does well in the end
Crowds are back, AFL is back!
Six lead changed already, it's a great game of footy
SEVEN LEAD CHANGES!
Has he got enough on it?
Funny little handball
Nice body work
Might have been interfered with
Turns around and says "Mate, I'm twice your size!"
They have been explosive!
Centering ball
Reiwaldt hits the board
Tried to get boot to ball
The pressure from both sides… EXCEPTIONAL!
What's he got ahead of him?
Now they're out!
Parked underneath it
Puts it wide
It is on!
Now the human meatball…
And is this deliberate? YES IT IS! WHAT ABOUT THAT? HAVE YOU EVER SEEN ANYTHING LIKE IT???
Lowers the eyes, that's nice
Seesawing encounter to start the season
AFL football is back in a big way!
Funny little kick
Advantage is paid
Got to make a contest
Great vision out wide
Right on the Toyota logo there
They really got to steady here
Wants to wheel and go
Across the face, a minor score
There's been some decent mullets over the Carlton journey
Runners everywhere
They start to get hold of it!
Interesting decision
It's a two goal spread
He thought about going
Thumped through
You get the feeling the Tiges will be careful with the ball here
Well it's a great game of footy at the MCG. It's lived up to expectations!
He'll thump it back in
Floats one forward
Where was the pressure?
Blues fans furious!
Can't bend it back enough!
Hoisted it inside without great direction
Let himself down there
He can't help finding the ball!
Run down, holding the ball!
Ball in
The Blues are peppering
Oh that's nice! They are coming, the Blues!
That's a very nice set shot!
Good hands, quick release
Hard at the pack
Just couldn't handle the ball
Their sub has been activated
Just pounded it out of there
Big coupla minutes!
You thought he might have been towelled there a little bit, BT?
Straight as! Perfect execution
He slots it through
Carlton have been rushing
Hacks it across the face
Probably should have hung on
Martin's in great shape
Nailed it!
It ended up in the best possible hands
If you can't put it on the scoreboard it goes to waste
Had to go down deep
Worked it through with great hands
And a ball up
Only five touches this half after he was enormous early
Can the Blues find something just to steady the ship?
Umpire said it was high
Tigers fans not impressed!
Sprays it wide
Inaccuracy really costing the Blues at the moment
Can they conjure something?
Swinging it away by hand
Good call, Jobe
Neat little ball
He reels and goes
What an important goal
He's snagged a couple
A good late fist
He sees it out
Plenty of time on the clock!
Steers it inside 50
This is a must goal!
Just needs to hit it a little harder here.
That's nice, well done!
Over the top and there's Blues everywhere!
Jeez JB they've got a bit of steam up now haven't they!
They'll get a ball in very deep
Still lots of time! That clock WILL NOT WIND DOWN!
He's impossible to collar!
Keeps it in
Ran into his own man!
Plenty of time for both teams
He was mounted!
Stuck it down the throat of Reiwaldt
A penetrating ball
Just composure to put it through
They've done enough here the Tigers, such a professional outfit
Too good, Richmond.